全自动插拔力试验机 - Model : 1220WS
---
本机器适用于各种连接器之插入力及拔出力测试
This tester can overcome the clamp problem of connectors and perform automatic alignment of male and female connectors during the test without single-sided aligning defect.
WINDOWS中文窗口版软件画面设定,操作简方便,快速易学,且所有数据皆可
储存(试验条件、插拔位移曲线图、寿命曲线图、检查报表…等等)
For all kinds of connectors in inserting and pulling force tests. With fixtures automatic core-finding device for accurate result. Windows Chinese(English) with data storage function. (test conditions, displacement curve, life curve and test report, etc.)

※ 夹治具Standard Clamp :
Multi-function clamp and tips

Auto core-finding device for entire row

Oversized X-Y table.

Normal Force fixtures

Grounded/high-accuracy/ muitifunction
Match with all kinds of tips
Hold connectors precisely
High-accuracy in testing


auto core-finding device
Auto central alianment in

testing
Without single-sided aligning defect.
For holding all connectors


For large-scale moving
Max. movement: 75x75mm
For single-hole inserting/pulling

test and retention force


Holding capacity $ 0.5- $4mm
For Normal force test
For the pin getting out

from single hold connectors

※ 测试项目Test Items:
◆连接器单孔插拔试验Connector single-hole inserting /pulling test.
◆连接器插拔寿命试验Connector inserting/pulling life test.
◆端子与塑料保持力试验Connector single-hole inserting /pulling test.
◆连接器正向力测试Connector Normal Force test.
◆各种压缩、拉伸破坏试验All kinds of compress, stretch destructive stage test.

※ 机器特点Teatures:

●测试条件皆由计算机画面设定,快速且方便,并可储存(含测试行程、速度、次数、空压、暂停时间…….等等)。
All test conditions are stored and programmed by computer pictures. Select from list or input the figures directly for setting. (Including the testing items,movement direction, load range, stroke range, origin position, origin detector, speed, total frequency, pause time, waiting position and pre-running frequency)
●可记录(储存)并显示每次测试之『插拔 - 位移』曲线图。
Concurrent display Load-displacement and Life curves
●可储存及打印图形(荷重位移曲线图及荷重衰减寿命曲线图、检验报表)。
Direct printout and storage of the diagrams. (displacement curve, load force life curve and test report)
●可输测试上、下限值,超出规格机器自动判定OK或NG。
Stop by limited values (Machine will stop once the figures are over the upper/lower limited values in life testing.)
●测试项目:最大荷重值、行程(1)(2)(3)之荷重值、荷重(1)(2)(3)之行程值、电阻值。
Test Items: Max. load value, peak value, bottom value, the load value of distance, the distance value of load, inserting point resistance value(opt.), loading or distance resistance values. (Opt.)
●荷重元超负载之硬件保护及软件保护可确保荷重元不致损坏。
Load cells over-load protection against damage
●荷重单位显示N 、lb 、g 、kg.可自由切换。
Auto load origin functions with load value settingSelectable units of N, Ib, gf and kgf.
●可同时搭配数个荷重元。
Several load cells can be selected (2kgf, 5kgf, 20kgf, 50kgf, 200kgf )(option)
机器规格型号

型号MODEL

1220S

1220HS

1220WS

位移最小解析Min.Stroke

0.001mm

0.001mm

0.001mm

两柱最大距离Column interval

200mm

400mm

测试荷重种类Units

200 kgf 、 50 kgf 、 20 kgf 、 5 kgf 、 2 kgf.

最小读值Load resolution

0.1kgf、0.01kgf、1gf、0.2gf

荷重精度Load accuracy

0.2% FS

最大测试高度Max. Stroke

150mm

测试速范围Speed range

1-200mm/min(1-600)mm/min

传动机构Transmission

滚珠螺杆Ball Screw

驱动马达Drive motor

伺服马达Servo motor

电压Power

AC220V

重量Weight

85kg

115kg

机器外观尺寸Machine dimensions

360WX260DX1050Hmm

560W X 360D X 1050Hmm

控制器外观尺寸Controller dimensions

430WX500DX190Hmm
※.测试报告Test Report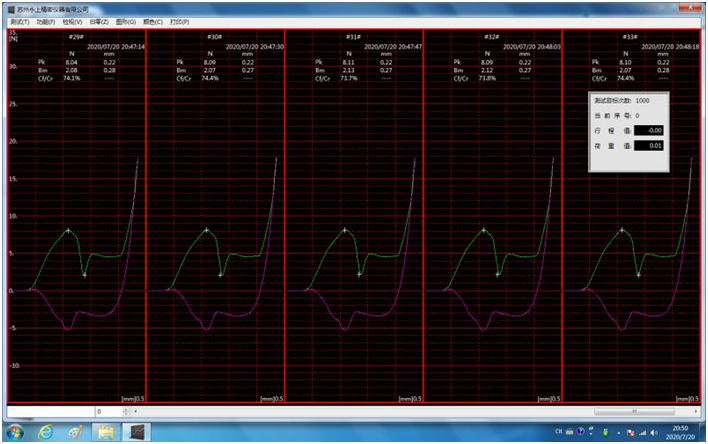 ※ Pulling Load-distance Curve:

Directly display and store each displacement and load value variation. (Xis distance, Y is load)
Cross-shape cursor can trace the track of each test diagram, so as to determine the distance values of load and displacement. Minimum resolution is 0.01mm (0.001mm)
The curve can be stored in the computer for enlarging and shrinking at any time. Besides, "N" number of curve diagrams can also be designated on a single A4 size sheet.
Reel type curve diagram for browsing easily.